FLASH ANNOUNCEMENT
Everything on this site is proprietary and property of Hexagon Interactive - FA9550-05-C-0054. The Government's rights to use, modify, reproduce, release, perform, display, or disclose technical data or computer software marked with this legend are restricted during the period ending 03/01/2012 as provided in paragraph (b) (4) of the Rights in Noncommercial Technical data and Computer Software – SBIR clause contained in the above identified contract.
CYBERWAR XXI - Joint Theater Commander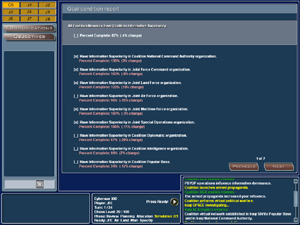 CHIEF OF STAFF SCREEN
Provides information about your mission objectives and the percentage of completion so far.